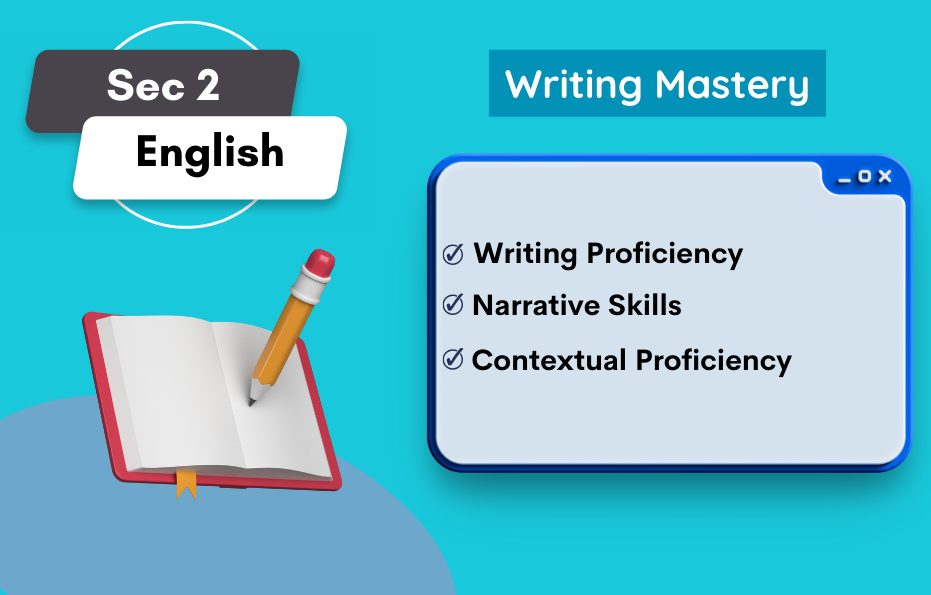 Master essential writing skills with our Secondary 2 English Writing course.
Develop proficiency in summarizing, expository, situational, and narrative writing through structured lessons and practical application.
The Secondary 2 English Writing course focuses on honing fundamental writing skills. Emphasizing summary, exposition, situational, and narrative writing, it cultivates adeptness in text comprehension, structural analysis, situational adaptation, and character development. Students engage in comprehensive exercises, mastering diverse writing forms essential for effective communication.
This course is designed for students currently enrolled in Secondary 2 seeking to enhance their English writing skills.
 Individuals interested in developing their writing abilities for personal or creative pursuits.
Tailored to assist students preparing for English examinations by strengthening their writing competencies within the prescribed curriculum.
Summary Writing Mastery: Students will learn to adeptly condense and synthesize diverse text types into concise summaries while retaining key information.
Expository Structure Identification: Mastery in recognizing and constructing various expository structures, enabling effective communication of ideas in essays and reports.
Proficiency in Situational Writing: Developing the ability to tailor written content for different contexts and purposes, honing skills necessary for real-world scenarios.
Narrative Analysis and Character Development: Students will analyze narrative prompts and craft compelling characters, enhancing their storytelling capabilities in narrative writing.
Mastery in summarizing diverse texts with precision and conciseness.
Recognition and construction of varied expository writing structures.
Proficiency in crafting written responses for diverse situational contexts.
Skillful analysis and character development in narrative writing
Why Learn from doerdo Tuition Course?
Experienced Teachers: Our expert ex-MOE teachers provide top-notch guidance and support.
Real-time Performance Tracking: Parents can monitor students' progress through detailed insights.
After-Class Support: Students receive help and clarification from teachers beyond class hours.
Al-Based Assessments: Benefit from Al-generated tests and homework for personalized learning.
Engaging Content: Interactive learning resources make studying science enjoyable and effective.
Summary Writing: Comprehend diverse texts and condense them effectively, honing skills in succinctly capturing essential information.
Expository Writing: Acquire the expertise to discern and construct various expository structures, fostering clear and coherent written expression.
Situational Writing: Cultivate the ability to craft written pieces tailored for specific contexts, demonstrating adaptability and clarity.
Narrative Writing: Evaluate prompts, construct intricate characters, and develop engaging plots for compelling storytelling